<![if !IE]> <![endif]>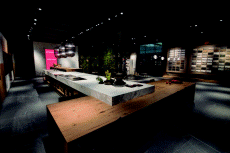 ITOPKER are innovative surfaces for countertops, worktops and for cladding furniture with thicknesses of 4, 6, 12 and 20 mm and large format 150 x 320 cm, that combine cutting-edge materials, large format and a high design appeal.
ITOPKER collections are manufactured using H2O IPLUS FULL DIGITAL technology, pioneered internationally by Inalco. H2O IPLUS FULL DIGITAL represents a whole new breakthrough for the ceramic tile industry since not only does it allow for the creation of collections with an outstanding definition and superb technical characteristics, but these collections are also more environmentally sustainable and eco-friendly.
ITOPKER has outstanding technical and aesthetic features. It is ideal for everyday places where hygiene is fundamental due to its high resistance and lack of pores, being highly resistant to scratching, thermal contrasts, ultraviolet rays, shock and high temperatures. In addition, they are easy to clean and care for. ITOPKER meets the needs of today´s living spaces, guaranteeing versatile, eco-friendy, innovative new uses and applications, helping create interior design project with a higher added value. The over 40 available designs include natural, structured, glossy polished and matt polished finishes.
Inalco presents the large format ITOPKER surfaces with thicknesses of 4, 6, 12 and 20 mm in stand C021, located in Hall 4.2.

Calle Saleretes S/N
12110 L'Alcora
Spain
+34 964 368000

+34 964 368050