<![if !IE]> <![endif]>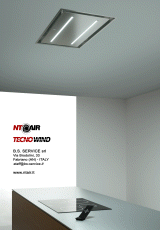 KA4020 is a ceiling cooker hood available both in stainless steel and in glass. It is mainly used above worktops free at 360° and its innovative installation system allows an open and livable environment for the complete family. It is extremely versatile and can be installed either duct out or in recirculation mode. The plain finishing matches the modern kitchens.

The hood is equipped with a perimeter extraction system that enhances its elegance and increases the speed of the air along its perimeter to reduce the outflow of the fumes outside the external extraction edge. The hood can be controlled either by an elegant remote control or by the combination with our induction hobs that guarantee the functionality of the most advanced electronic controls.

KA4020 guarantees a high performance with a low energy consumption reaching class A ++ at maximum speed and works quietly at minimum speed thanks to our innovative system of passive decrease of the noise.

This model is equipped with LED lamps that light up the hob and the entire surrounding environment and guarantee important energy savings with a maximum power of 12 W and a duration of 10,000 hours.

KA4020 is just one of the several cooker hoods that B.S. Service offer to the world market; our expanding collection goes from entry-level models to high-end ones, offering cutting-edge innovation and technologies, giving customer satisfaction the top priority and ensuring full respect for comfort and livability.
Via Giacomo Brodolini 33
60044 FABRIANO (AN)
Italy
+39 0732 21008

+39 0732 21008