<![if !IE]> <![endif]>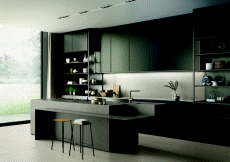 Emilceramica has drawn on over a decade of experience to create Level, a line of ceramic slabs in the 160x320 size, of various thickness, for creating furnishings and continuous surfaces, combining
the utmost aesthetic refinement with advantages in terms of hygiene, strength and practicality that only porcelain stoneware can guarantee. A project that delivers the utmost modularity and versatility to express the full potential of those who aspire, day after day, to transform material into attractive design.
Ceramic slabs in two sizes – a rectified 160x320 size with 6.5mm thickness and an unrectified 162x324 size with 12mm thickness – enable the creation of tops and backsplashes for kitchens and bathrooms, worktops, tables, doors, seamless covering solutions for floors and walls, and other elements, including for outdoors, with a degree of detail, versatility of application and personalisation that was previously unimaginable. Level is the ideal raw material for creations that elevate quality of life to the status of a masterpiece.
4 inspirations – marble, cement, design and solid colour – for over 20 available stylistic variants: Level guarantees the highest degree of freedom of expression and is the ideal medium for
architectural design in step with the latest, most innovative trends. It enables the conception and creation of furnishing and design solutions with a high aesthetic and technical value to
satisfy the most varied and demanding taste.
Via Ghiarola Nuova 29
41042 FIORANO MODENESE (MO)
Italy
+39 0536 835111

+39 0536 835490